Yoga and Meditation
Yoga is an ancient philosophy and means "union" which is interpreted many ways, with the most modern interpretation as the union of the mind, body, and soul.  The union also yokes together the physical, mental, emotional, and spiritual bodies.  Through a conscious connection, yoga allows us to know ourselves and can be a fulfilling experience.
Meditation is an opportunity to pause – breathe – and be present in the body and mind.  In a world of busyness, meditation offers the opportunity to rewire the brain and provide healing through calming techniques.  Stress management is one of the most common reasons why people meditate.  In doing so, there is a reduction in the stress hormone cortisol, thus reducing inflammation in the body. Meditation can be daunting and there's benefit in being guided by a mindful leader.  When meditators come together in a group setting, it enhances the benefit.
Yoga Prices:
Single Session: $10
5-Class Package (exp. 2 months): $45
10-Class Package (exp. 4 months): $85
1 Month Unlimited Yoga Classes: $60
Senior Class (unique class): $5
Youth (up to age 15): $6
Youth 1 Month Unlimited Yoga Classes: $25
Meditation Prices:
Single Session: $5
1 Month Unlimited: $40
Private Yoga/Wellness Event Prices:
1 Hour: $60
2 Hours: $120
4 Hours: $240
6 Hours: $360
8 Hours: $480
What Can Yoga and Meditation Really Do?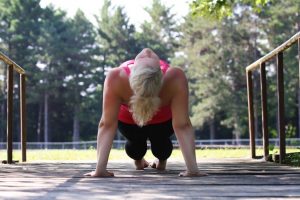 A skilled Experienced Yoga Teacher, trained through a Yoga Alliance approved school, can guide yoga students through a series of yoga poses, breathing exercises, and meditative practices for balance, flexibility, muscle enhancement, vitality, and stress reduction.
Yoga Benefits
Increased flexibility
Increased muscle strength and tone
Improved respiration, energy, and vitality
Maintaining a balanced metabolism
Weight reduction
Cardio and circulatory health
Improved athletic performance
Protection from injury
Manage stress
Meditation Benefits
Manage stress
Control anxiety
Promotes emotional health
Enhances self-awareness
Lengthens attention span
May reduce age-related memory loss
Can generate kindness and compassion
May help fight addictions
Improves sleep
Helps control pain
Can decrease blood pressure
We offer senior, beginner, stress release, hatha, and energizing yoga classes for all levels. For more information on Yoga and to join a class, call ChiroPlus at 920-787-0081 (Wautoma) or 920-294-3130 (Green Lake).